150th Anniversary Reenactment of Twiggs' Surrender
Saturday, February 12 2011
In front of the Alamo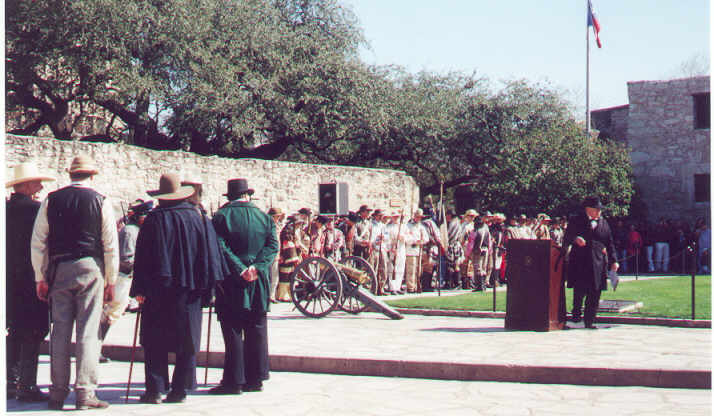 Twiggs reenactment 2001: Texas commissioners and Narrator in foreground, Texan militia in background
The Civil War almost started in San Antonio on February 16th, 1861. Come to Alamo Plaza in San Antonio on Feb. 12th, 2011 and see this living history event!
This one will be bigger than previous years, as befits the 150th.   
Free to spectators. Performances at 11 AM and 2:00PM. Other living history exhibitions and events from 9AM until 2 PM.
More information:
History: In late 1860, Brevet Major-General David E. Twiggs returned from six months' leave and resumed his duties as commander of the Department of Texas, containing 20% of the U.S. Army. San Antonio was the Department's base city, but most of the troops were strung out in frontier and border forts. General Twiggs was surrounded by dangerous political events: As the secession crisis developed nationwide, and contrary to the wishes of Governor Sam Houston, Texas' legislature authorized a secession convention. Before the secession convention adjourned it set up a Committee of Public Safety to act on its behalf, while the state waited to hold a referendum on secession. The events depicted in our reenactment happened before that referendum, before Texas seceded, before there was a southern Confederacy, almost two months before the first shot was fired on Fort Sumter, and while everyone had some hope of peace. The Committee of Public Safety expected and desired secession, and if Texas was to declare independence, possession of the weapons in the San Antonio arsenal would be vital. More..
Parking & Event Location: The event will be held at Alamo Plaza. Click here Click here for map and directions.
Participant information: This event is put on by experienced living historians. Participants are asked to pre-register, and to sign in early on site. A participant fee of $5 will be charged to all male reenactors other than those sponsoring organizations who have pre-paid substantial amounts. This will partially cover insurance costs and city permit fees, which are over $1,000.
Plumbing in Texas: When choosing the right plumber it is important to take into consideration the location of your home. If you are located in Lubbock, TX then it only makes sense to hire a Plumber in Lubbock who can handle the job. Don't forget to ask questions such as "Are you licensed and insured? Are you bonded, etc. There are a great number of plumbers in Lubbock so you would be wise to do your homework.